June 1, 2023
Pentecost-Trinity Sunday
Saturday June 3rd
Commemoration of the Departed
Liturgy 10am
Acts 28:1-31; 1 Thessalonians 4:13-17
John 21:15-25; John 5:24-30
6pm Great Vespers
Numbers 11:16-17, 24-29; Joel 2:23-32; Ezekiel 36:24-28
Sunday June 4th
Pentecost - Trinity Sunday - Descent of the Holy Spirit on the Disciples
10am Divine Liturgy
Acts 2:1-11
John 7:37-52 and 8:12
Kneeling Prayers
If you will be at the Liturgy for the Departed on Saturday at 10am, please be sure to have your list of departed who will be commemorated, ready for reading out. As I have mentioned, non-Orthodox can be commemorated at this Liturgy. If you are not present, we will commemorate your list another time.
Some good news. We are planning to explore the possibility of opening a Mission on Cape Breton. We have a family of Catechumens who live north of Sydney and of course we have Mary and her family who live in Margaree. Mary is heading a committee that is making the plans. We expect that we shall serve a Liturgy near Mary's home on either the first or second Sunday in August. There will be more of this news a little later as the plans develop.
It's amazing who you can run into in Edmonton: David and Braidyn met this past week. They both look really well. Braidyn drove up while David was on a course. A nice "Selfie!"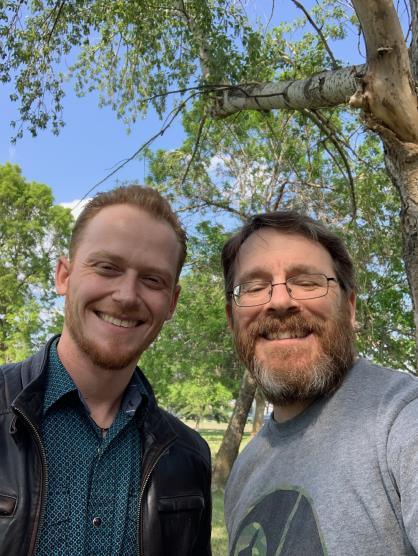 May God bless all of us.
Love in Christ,
-- Father David