News and Events
February 6, 2016
Sat Feb 6: Vespers 6:00 pm
Sun Feb 7: Hours, Liturgy, coffee hour 10:00 am.
Lent is approaching, next weekend will be Zacchaeus Sunday, followed by the 4 preparatory Sundays before Lent. Confession can help prepare us for the Lenten season. To schedule a confession, please contact Fr Vladimir.
Reminder about inclement weather: when stormy weather is announced, please check your email before leaving for church in case of last-minute disruptions due to snow.
Bookkeeper needed: Our parish needs a bookkeeper. No previous experience necessary. If you can help with this important task, please speak to Reuben.
Civic Calendar with Service Schedule
Year 2016
February
Mon
Tue
Wed
Thu
Fri
Sat
Sun

0

1

0

2

0

3

0

4

0

5

0

6


Vespers 6:00pm

0

7


Hours, Liturgy 10:00am

0

8

0

9

10

11

12

13


Vespers 6:00pm

14


Hours, Liturgy 10:00am

15
Meeting of Lord
16

17

18

19

20


Vespers 6:00pm

21


Hours, Liturgy 10:00am

22
23

24

25

26

27


Vespers 6:00pm

28


Hours, Liturgy 10:00am

29
Sundays and major feasts are in red. Fast days are shaded.
January 29, 2016
Sat Jan 30: Vespers 6:00 pm
Sun Jan 31: Hours, Liturgy, coffee hour 10:00 am.
January 23, 2016
This weekend we will celebrate the feast of the Theophany of our Lord:
Sat Jan 23: Vespers 6:00 pm
Sun Jan 24: Hours, Liturgy, Blessing of the waters, coffee hour 10:00 am. Fr Alexander will serve and preach the sermon. If you wish to take holy water home with you, please bring a very clean container (that has preferably been soaked in very hot and soapy water) to prevent any contamination.
If you wish to view photos of last weekend's events, please click here.
News from the monastery: Father Roman has received the Great Schema, and has taken the name of Luke, after St Luke of Simferopol. May God grant Father Luke many years!
January 18, 2016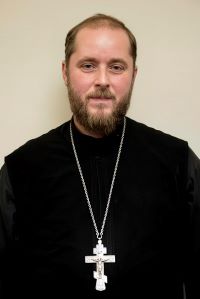 Many years to our newly-ordained priest Alexander and subdeacon Pavlo! Please remember them and their families in your prayers as they take on new responsibilities in the Church.
Many thanks to all who helped organize food, helped in the services, chauffeured visitors, shovelled and sanded the front of the church and performed many other tasks needed to have the weekend run smoothly!
Archbishop Ire'ne'e has given us the blessing to serve Vespers with the blessing of the waters on Monday at 6:00 pm for the eve of Theophany. For those who can't make it, there will be another blessing of the waters Sunday.
January 11, 2016
This coming weekend, January 16-17, Archbishop Ire'ne'e will be visiting our parish. Here is the schedule of the archpastoral visit (note that we will have the blessing of the waters the following weekend):
Saturday, January 16: Vespers 6:00 pm, followed by a potluck and informal discussion with the Archbishop at the church
Sunday, January 17: 10:00 am Hours and Divine Liturgy with ordination of Deacon Alexander to the priesthood and ordination of Pavlo Slavinskyi to the subdiaconate. Please keep Fr Deacon Alexander and Pavlo in your prayers as they prepare for this.
1:30 pm - Potluck reception after the Liturgy at the Purcell's Cove Social Club, 505 Purcell's Cove Rd., Halifax.
Contributions of food and drink to both potlucks would be very much appreciated. For further information on the potlucks and on how you can help, please contact Ksenia.
January 2, 2016
Sat Jan 2: Vespers 6:00 pm
Sun Jan 3: Hours, Liturgy, Coffee Hour 10 am
Wed Jan 6 - Vigil of Nativity of our Lord, God and Saviour Jesus Christ 9:00 pm
After the service there will be a potluck meal downstairs, please bring contributions of fish, meat, cold cuts, salads, cheese, wine and drinks and the like.
If the parking lot is full, please park on Fergusons Cove Road, no snow is currently forecast, so we should be ok to park on the street.
The following day, Thursday Jan 7, all are invited for a potluck meal at the house of Reuben Penner to continue celebrating in the joy of the feast starting 3PM with coffee, tea (meal will be at 5:30pm). Please bring a dish to contribute.
Archive